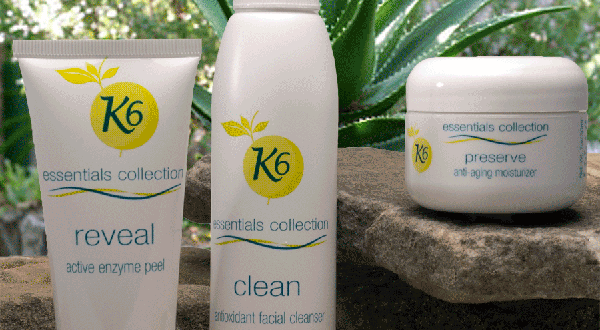 Essentials Collection – 100% Vegan, 99% Natural
Introducing Essentials Collection. Featuring the three most important products required for healthy, glowing skin, the Essentials Collection was developed in response to the growing number of hyper-sensitive skin cases. These products offer relief for a variety of skin conditions such as eczema, rosacea, psoriasis, dermatitis, and acne. The Essentials Collection line of products addresses the fundamental needs of every skin type and condition. These products have been clinically tested and found to be very soothing and effective for all skin types.
The Essentials Collection consists of:
clean — a powerful but soothing anti-oxidant cleanser
reveal — an activated enzyme peel extracted from papaya, pineapple and pumpkin
preserve — a rich, nourishing anti-aging moisturizer
K6 Skin Care is a brand new company started in late 2010 by a Traditional Naturopath.
Naturopathy is the broad study of many natural healing techniques including nutrition, herbs, homeopathy, acupressure, massage, reflexology and many other modalities.
K6 Skin Care is committed to producing only the best all natural skin care products using both nature and cutting-edge technology to accomplish this task.
Using natural ingredients combined with the best delivery systems, K6 Skin Care has developed a line of products that will deliver the results our clients are looking for.
We are not driven to make our clients look artificially young, but to look healthy, vibrant, and youthful at every age.
Call 682-554-5777 for more information about K6 Skin Care products!
Thank for choosing Eva's Day Spa as your skincare consultant